Eighty percent of the 183 homeowners in a six-block section of Oakwood Beach have banded together to ask Gov. Cuomo to buy them out — all of them at once.
DEBBIE EGAN-CHIN/NEW YORK DAILY NEWS
Residents of Fox Beach ask the government to buy them out of...Read More »
---
STATEN ISLAND, NY — A plan for storm-weary Staten Islanders, whose homes have been ravaged by Hurricane Sandy, to sell their residences to the government is definitely a go, according to local and community representatives.
"The buyout is happening," said Michael Arvanites, deputy chief of staff for state Sen. Diane Savino...Read More »
---
Gov. Andrew Cuomo said 141 homeowners in storm-ravaged Oakwood Beach will participate in a state program, in which the state will buy their homes at pre-storm values.
(AP) — A Staten Island neighborhood where three people died during Superstorm Sandy will be the first to get state-sponsored home buyouts.
Gov. Andrew...Read More »
---
Andrew M. Cuomo – Governor
Governor Cuomo Seeks Federal Approval of NY State Plans for Housing and Business Storm Recovery Programs
Albany, NY (March 12, 2013)
NYS is First State or Local Government to Release Action Plan for Initial $1.7B in Federal CDBG Funding for Disaster Recovery
Governor Andrew M. Cuomo today...Read More »
---
STATEN ISLAND, NY – Rep. Michael G. Grimm (R,C-SI/Brooklyn) applauds today's announcement of the Department of Housing and Urban Development's approval of the NYS Community Development Block Grant – Disaster Recovery (CDBG-DR) Program, which clears the way for home buyout programs:
"I applaud Secretary Donovan and Governor Cuomo for expediting the...Read More »
---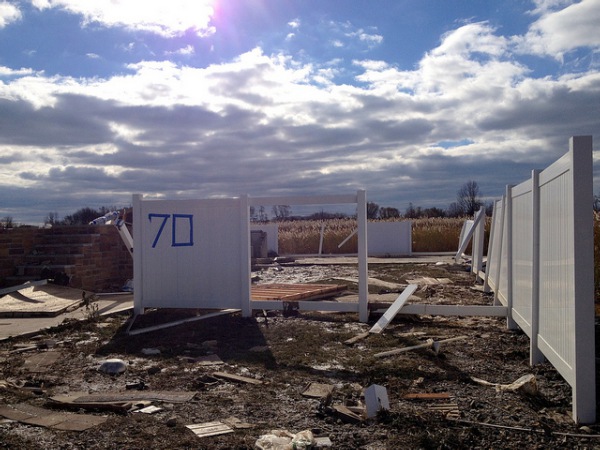 ALBANY, N.Y. — The Fox Beach community of Staten island sits only a few blocks from the ocean on wetlands where tall reeds sprout across the landscape.
After the lives of three of its residents were lost during Hurricane Sandy and flooding destroyed a number of the small bungalows that make...Read More »
---
May 03, 2013 10:29 am

Staten Island resident Joseph Tirone brought the idea of a buyout group to his neighbors. Photo credit: Buck Ennis
A few weeks ago, in the Oakwood Beach section of Staten Island, it looked almost as though some sort of neighborhood reunion was taking place. Former residents milled...Read More »
---
STATEN ISLAND, N.Y. — The Cuomo administration has enhanced the home buyout zone in a portion of Oakwood Beach ravaged by superstorm Sandy.
About 120 homes on the periphery of Fox Beach were added by the state, bringing to 300 the number of homes eligible for a buyout, with a potential expansion...Read More »
---
STATEN ISLAND, N.Y. — As the one-year anniversary of Hurricane Sandy approaches, battered homeowners in Oakwood Beach have begun receiving buyout letters from the state — and they say the offers are "right on the money."
The Advance has learned the average buy-out offer is in the $400,000 range.
Despite assurances from...Read More »
---
A year on from Sandy, many communities have at least started the process of repair.  Twenty-five thousand New Yorkers have applied for assistance, mostly to repair homes. But some communities are throwing in the towel entirely.
Patti Snyder's home – a one story white bungalow type house – is picturesque. Cute...Read More »
---
NEW YORK (AP) — Residents of a flood-prone area battered by Superstorm Sandy are getting a financial lifeline, with state officials announcing a plan to buy all 129 homes in a neighborhood sandwiched between a tidal marsh and the Atlantic Ocean.
Democratic Gov. Andrew Cuomo on Monday announced the state was...Read More »
---
STATEN ISLAND, N.Y. — "It's coming down like it's a little doll house," said Joe Tirone Wednesday morning of the rental property he owned at 87 Fox Beach Ave. in Oakwood Beach.
The home, a one-bed beach bungalow built in 1940, was torn down by a backhoe that appeared bigger than...Read More »
---
Source: http://www.governor.ny.gov/sites/default/files/documents/OceanBreezeBuyoutArea_10-11-13.pdf
...
Read More »
---
By Jane Gray and Genevieve Belmaker, Epoch Times
A part of a house that floated off its foundation when Superstorm Sandy hit sits in the middle of a coastal estuary in the Oakwood Beach area of Staten Island, New York, in November 2012. (Paul J. Richards/Getty Images)
As demolitions begin, Staten Islanders still grappling with reality of returning land to nature